FISD Executive Committee Elections
All FISD members are invited to nominate candidates to fill 15 positions on the FISD Executive Committee (EC) for two-year terms which begin in January 2018. Positions are open for representatives in each of the three FISD constituency areas: exchanges, vendors (data, software, hardware, services), and consumer firms. View the current EC list. Please submit one nomination for your company with the campaign statements for both executives who will be representing your firm. Nominations will be accepted until November 17, then voting will begin on November 21. Nominate candidates from your firm now.

*NEW* FISD Data Licensing Exam
FISD has launched its first Level 2 Exam. The Data Licensing Exam tests your mastery of issues surrounding data licensing. Unlike the Level 1 FISD Financial Information Associate (FISD FIA) Exam which aims to cover a broad range of foundational knowledge, Level 2 exams take a narrower and deeper focus. Topics covered in the official syllabus include:
Participants: information providers, vendors, sub-vendors, service facilitators, technology & service providers, end users
Concepts: types of licensable data, fee waivers, units of count usage types
Governance: compliance, license changes, audits, inventory, systems
Interested in learning more? Register now. As part of an introductory special, the exam fee is just $325 (regular price will be $575), so you should act fast. Contact Hope Wilkes with questions.
Flashcards for the FISD FIA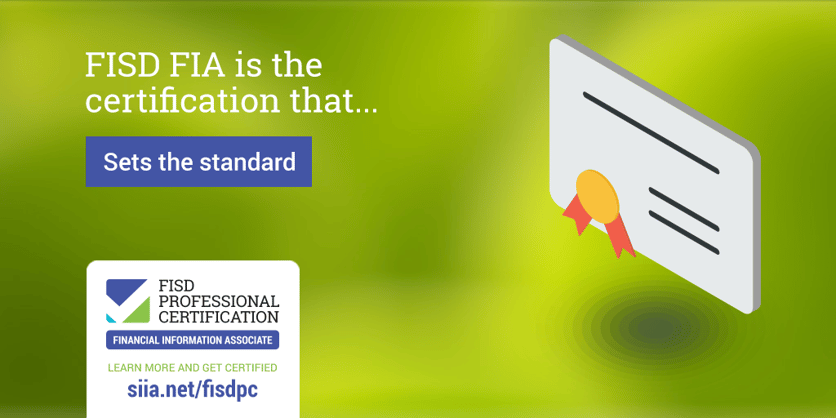 Thanks to the hard work of an FISD member, an extensive digital flashcard deck is available for you to use as you prepare for the FISD FIA. Hosted on Quizlet, the deck contains over 400 terms and definitions noted in the syllabus. If flashcards aren't quite your thing, you can turn the content into a game that can help you study. This tool is 100% free for you to access, no account required. Check out the flashcards here, then register for the FISD FIA. Have your own study tool to share or questions about the flashcards? Contact Hope Wilkes.
WFIC Powerpoints, Photos and Much More Now Online!


We hope everyone enjoyed the 2017 World Financial Information Conference in Barcelona, Spain! FISD would like to thank all of our sponsors and speakers who helped make this event a huge success. In case you missed it or want a recap, please check out the WFIC Wrap-up page where you will find the event PowerPoints, photos. and more!
WFIC The Movie: A special thank you to Ed Flynn for creating WFIC 2017 The Movie. Click here to view the video on YouTube!
FISD Dues Scale to Increase by 5% on January 1, 2018
In June 2017, the Board of SIIA (FISD's parent organization) approved an across-the-board 5% increase in the SIIA dues scale. This dues increase is the first in approximately 20 years and will affect FISD members with membership terms ending December 31, 2017 and later. After consultation with the member leadership of the SIIA's divisions (including the FISD Executive Committee), the SIIA Board undertook these changes as part of a comprehensive package of expense cuts and revenue increases that will provide for the continued financial health of the SIIA and its divisions. The revised dues scale can be viewed here. FISD asks that you consider these changes as you plan your budgets for 2018 and beyond. While price increases are never popular, FISD management believes that this increase will enable FISD to maintain and increase its level of support for its members in an increasingly expensive environment. If you have any questions, or would like to discuss this, please contact Tracey Shumpert.

UPCOMING EVENTS
November 30: FISD London Issue Brief & Christmas Party
December 14: FISD General Meeting - New York
December 14: FISD Holiday Party - New York
February 1: FISD Amsterdam
February 28: FISD Technology Forum - London
March 15: FISD Sydney
March 20: FISD Singapore
March 28: FISD Issue Brief - New York


Share Your News in the FISD Newsletter
Members can have their press releases, events, white papers, blogs, news articles, and job postings featured in the FISD Newsletter. Delivered monthly to thousands of financial information professionals, the newsletter is a great place to spread your news. Email relevant material to Michael Zingali with the subject line "FISD Newsletter Submission".
---
FISD WORKING GROUPS
Consumer Index Group
Contact: Nick Merritt +1 202-789-4441

Consumer Constituent U.S. Exchange Data Sub-Group
Contact: Tom Davin +1 202-789-4465

Business Issues Policies and Practices Standards (BIPPS) Working Group
Contact: Tom Davin +1 202-789-4465

Service Level & Communications Working Group
Contact: Nick Merritt +1 202-789-4441

MIFID II Reference Data Working Group
Contact: David Anderson +44(0)1825791382

FISD CONSTITUENT GROUPS
*All constituent group meetings are invitation only
Consumers Contact: Tom Davin +1 202-789-4465
Exchanges Contact: David Anderson+44(0)1825791382
Data Vendors Contact: Nick Merritt +1 (202)789-4441
---
STAFF SCHEDULES
Tom Davin (DC Office):
London: November 28 - December 1 & February 5 - 7
New York: December 12 - 15
Amsterdam: January 31 - February 2

Nick Merritt (DC Office):
New York: December 14

David Anderson (UK Office):
London: November 29 - 30 & February 28
New York: December 11 - 15

Anika King (DC Office):
New York: December 14

Tracey Shumpert (NYC Office):
New York: December 14

Hope Wilkes (DC Office):
New York: December 14
London: February 27 - March 4

Michael Zingali (DC Office):
New York: December 14
Amsterdam: January 31 - February 2