WFIC Early-Bird Registration Ends TODAY!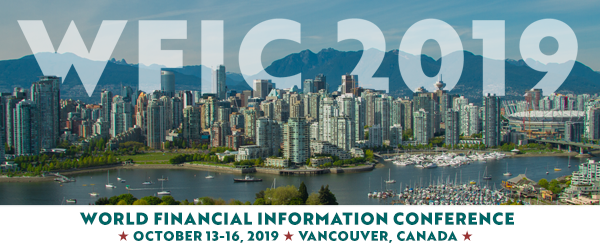 TODAY is the last day to take part in the Early-Bird Registration for the World Financial Information Conference taking place October 13-16, 2019 in Vancouver. If you'd like to join your colleagues, clients, and competitors at WFIC 2019 and take advantage of these discounted rates.

Early-Bird Rates*:
Regular Member $1,300
Consumer Member $600
Standard Rates*:
Regular Member $2,000
Consumer Member $600
*WFIC is not open to non-members at this time. If you wish to discuss membership, please contact Tracey Shumpert.

APFIC 2019 Program Announced!

This years Asia Pacific Financial Information Conference is moving to June 11-12 and will take place at various locations around Hong Kong, anchored by a full day of program and exhibits at the Ritz Carlton Kowloon. For 2019, we're excited to present a program focused on the trends that are affecting businesses in APAC and beyond. Topics covered will include: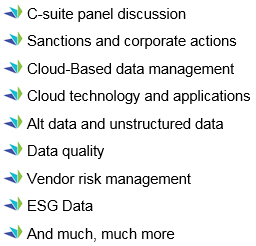 Early-bird registration for APFIC 2019 expires on March 31, 2019, so act fast if you want to secure the discounted rate! If you'd like information about sponsoring APFIC 2019, please touch base with Tracey Shumpert or David Anderson.
FISD Leadership Selected for 2019 and 2020
The FISD Executive Committee selected its leadership for 2019 and 2020. Steve Dickey (Cboe) will serve as Chair, Marcy Pike (Fidelity) will serve as Vice Chair, and Trip Wadleigh (TRG) will serve as Secretary. Steve, Marcy, and Trip will also represent FISD on the SIIA Board, along with FISD members Kerry Baker-Relf (Refinitiv) and Sallianne Taylor (Bloomberg). The full list of FISD Executive Committee members can be viewed here. The notes from the most recent Executive Committee meeting can be viewed here.
The British Are Coming
Paul Revere might say that again if he were still with us - in reality, it is only one very friendly and unthreatening Brit – FISD's UK based David Anderson traveling to facilitate our first FISD Boston event for several years on Tuesday May 7th. This will be open to our Buy Side members as it is part of the wider FISD Buy Side initiative that David is leading the charge on. Eaton Vance at their Downtown office at 2 International Place will be hosting; we owe a big thanks to David Lochiatto for arranging his firm as hosts. We will get off to an early start at 2 pm aiming to finish by 6 pm so that our valued colleagues from NYC could do the trip in a day. This news is hot off the press but in due course, we will have more to report on what will be discussed – send ideas to David Anderson if you have them.

Recognizing the few, the proud, the Data Licensing Specialists
Toast overheard at the DLS St. Patrick's Day celebration: "One bottle for the nine of us, thank goodness there's no more of us!"
The holders of the DLS credential know they're breathing rarefied air. They passed a tough exam that separates the great licensing experts from the merely good ones. If you can spot a blue badge at an FISD event, shake that person's hand and ask them about the test. While the DLS holders might be happy being part of a small elite club, FISD would like to see that club grow (and we think it'd benefit the industry). Please join us in congratulating these DLS holders on their achievement: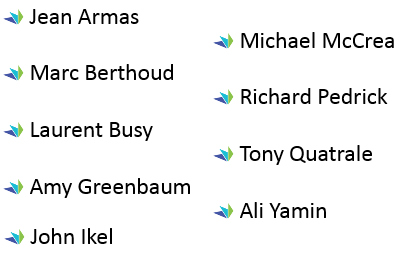 Share Your News in the FISD Newsletter
Members can have their press releases, events, white papers, blogs, news articles and job postings featured in the FISD Newsletter. Delivered monthly to thousands of financial information professionals, the newsletter is a great place to spread your news. Email relevant material to Michael Zingali with the subject line "FISD Newsletter Submission".
---
Upcoming Event Information



April 10 - FISD Rising Stars Happy Hour (New York)
April 25 - FISD Member Mixer (Chicago)
May 2 - FISD Toronto
May 16 - FISD Brazil
June 6 - FISD Sydney
June 11-12 - Asia Pacific Financial Information Conference
June 13 - FISD Issue Brief (London)
June 20 - FISD Technology Forum & General Meeting
---
FISD Working Groups
Consumer Index Group
*Next meeting is scheduled for April 9
Contact: Nick Merritt +1 202-789-4441
Consumer Constituent U.S. Exchange Data Sub-Group
*Next meeting is scheduled for May 13
Contact: Tom Davin +1 202-789-4465
Business Issues Policies and Practices Standards (BIPPS) Working Group
Contact: Tom Davin +1 202-789-4465
Service Level & Communications Working Group
*Next meeting is scheduled for March 29
Contact: Nick Merritt +1 202-789-4441
FISD Constituent Groups
* Next Consumer meeting is scheduled for May 29
* Next Exchange meeting is scheduled for June 12
* Next Data Vendor meeting is scheduled for June 12
*All constituent group meetings are invitation only
Consumers Contact: Tom Davin +1 202-789-4465
Exchanges Contact: David Anderson +44 (0) 1825791382
Data Vendors Contact: Nick Merritt +1 (202)789-4441
---
Staff Travel Schedules
Tom Davin (DC Office):
New York: April 10
Chicago: April 25
São Paulo: May 15-17
Sydney: June 5-7
Hong Kong : June 10-13

Nick Merritt (DC Office):
Toronto: May 2
David Anderson (UK Office):

Anika King (DC Office):

Tracey Shumpert (NYC Office):
New York: April 10
Hope Wilkes (DC Office):
New York: April 10
Michael Zingali (DC Office):
New York: April 10
Toronto: May 2