New WFIC Sponsorships Announced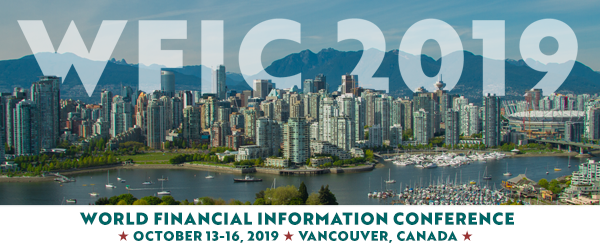 The World Financial Information Conference ("WFIC") is fortunate to receive most of its support from returning satisfied sponsors, but as a result, almost all of the inventory sold out very early this cycle. Therefore, in response to member feedback, we have created some impactful new sponsorship opportunities.Right now, you can choose from the Bronze Level Sponsorship flavors:
Exhibit Booth: The very last of the original inventory.
Meeting Pod: Great if you're seeking a place to have a chat with clients.
Event App: Get your message out to WFIC delegates through push notifications.
Swag Item: Everybody at WFIC will be walking around with your branded item, and likely using it for years to come back home.
One note: although not available yet, we may have one Gold Level Sponsorship to offer. If this is of interest, please contact Tracey Shumper to discuss.
WFIC is not open to non-members at this time. If you wish to discuss membership, please contact Tracey Shumpert.

¡Olé! FISD FIA Training in Mexico City
In-person training for the Financial Information Associate certification is coming to Latin America. TRG Screen, a recognized trainer for the FISD FIA certification, is hosting a public course at the Grupo BMV Escuela May 13-15 and May 15-17. Students pay 21,500 MEX to attend. Up to 50 students may attend. Click here to read the brochure. Then click here to register. Contact TRG Screen's Ronald Damen for more information about this unique training opportunity. Direct general questions about the FISD FIA to Hope Wilkes.
APFIC 2019 Program Announced!
This years Asia Pacific Financial Information Conference will be held on June 11-12 and will take place at various locations around Hong Kong, anchored by a full day of program and exhibits at the Ritz Carlton Kowloon. For 2019, we're excited to present a program focused on the trends that are affecting businesses in APAC and beyond. Topics covered will include: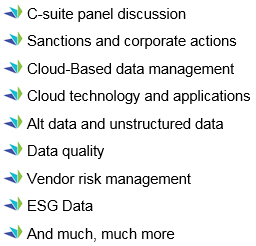 If you'd like information about sponsoring APFIC 2019, please touch base with Tracey Shumpert or David Anderson.

Best Practices Document is Updated
Members of the FISD's Service Level & Communications Working Group are pleased and proud to report that the Group's Best Practices document has been updated and revised. Following several months of review, drafting, and discussion among SLC members, the new version was approved by members of the Working Group and then presented to the FISD Executive Committee for their review and approval. This Working Group has a focus on improving communication among participants in our industry and facilitating the rollout of new products, policies and delivery methods. For the 6.0 version of the document, members have added several new examples of what defines "Minor Changes" and "Major Changes" and changed their recommendation to permit the use of APIs by vendors. For more information on the SLC Workin Group please contact Nick Merritt.

April 10 Rising Stars Was High-Key Lit, Fam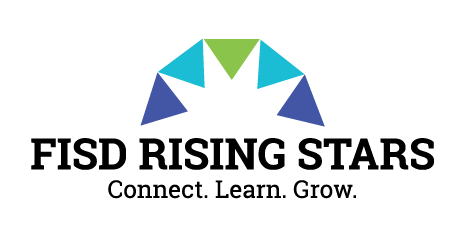 Silly headline, serious event. You don't have to be a millennial to care about millennials in the workplace (or understand what they're saying). Many thanks to those of you who attended the April 10 FISD Rising Stars Happy Hour at S&P. The panelists, including an older millennial, broke through common misconceptions about professionals currently in their 20s and 30s. In case you missed it, here are the key takeaways:
Listen. Millennials are people too. Instead of assuming you understand them or know what they want, let them tell you.
Make yourself available. Listening requires getting your millennials to talk to you. If you care about developing your more junior staff, take on aspects of a coach or mentor so they know that you're not just in charge of them, you also care about their success.
Some generational differences are real. We all enjoy a good joke about avocado toast, but seriously, there are some things that make millennials different. Respect those differences. You don't have to look hard to find something in the millennial perspective that you can value. For instance, because they're digital natives, millennials are hard to match when it comes to multi-tasking and understanding technology.
Maybe it's not a sense of entitlement. Having entered the job market during or hot on the heels of the financial crisis (often burdened by student loan debt) means that millennials may take a different approach to their careers. They might not just expect to grow their salaries quickly, they might feel a pressing need to do so.

Share Your News in the FISD Newsletter
Members can have their press releases, events, white papers, blogs, news articles and job postings featured in the FISD Newsletter. Delivered monthly to thousands of financial information professionals, the newsletter is a great place to spread your news. Email relevant material to Michael Zingali with the subject line "FISD Newsletter Submission".
---
Upcoming Event Information



May 2 - FISD Toronto
May 16 - FISD Brazil
June 6 - FISD Sydney
June 11-12 - Asia Pacific Financial Information Conference
June 13 - FISD Issue Brief (London)
June 18 - FISD Women's Group (NYC)
June 20 - FISD Technology Forum & General Meeting
---
FISD Working Groups
Consumer Index Group
* Next meeting is scheduled for May 11
Contact: Nick Merritt +1 202-789-4441
Consumer Constituent U.S. Exchange Data Sub-Group
Contact: Tom Davin +1 202-789-4465
Business Issues Policies and Practices Standards (BIPPS) Working Group
Contact: Tom Davin +1 202-789-4465
Service Level & Communications Working Group
* Next meeting is scheduled for May 24
Contact: Nick Merritt +1 202-789-4441
FISD Constituent Groups
* Next Exchange meeting is scheduled for June 12
* Next Data Vendor meeting is scheduled for June 12
*All constituent group meetings are invitation only
Consumers Contact: Tom Davin +1 202-789-4465
Exchanges Contact: David Anderson +44 (0) 1825791382
Data Vendors Contact: Nick Merritt +1 (202)789-4441
---
Staff Travel Schedules
Tom Davin (DC Office):
Chicago: April 25-26
Boston: May 7-8
São Paulo: May 15-17
Sydney: June 6-7
Hong Kong : June 10-13
New York: June 18-20

Nick Merritt (DC Office):
Chicago: April 25
Toronto: May 2

David Anderson (UK Office):
Boston: May 7-8
New York: June 18-20

Anika King (DC Office):
New York: June 18-20
Tracey Shumpert (NYC Office):
New York: June 18-20

Hope Wilkes (DC Office):

Michael Zingali (DC Office):
Toronto: May 2
New York: June 20