2018 FISD Executive Committee Announced
The FISD Executive Committee (EC) is charged in the FISD Bylaws with representing the FISD membership and setting the broad direction for FISD activities. In this capacity, the EC reviews and approves new initiatives, provides guidance to working groups and the FISD/SIIA staff, identifies priorities for the FISD budget and staff resources, and selects new EC members when vacancies open. Fifteen member companies were chosen to serve a two-year term beginning in February. Yousaf Hafeez of BT and Vice-Chair Steve Dickey of CBOE have reprised their roles as Chair and Vice-Chair respectively, as has Marcy Pike of Fidelity, as Secretary. Congratulations to new EC members: CPPIB, 3d Innovations and Vela, and to returning incumbents. The complete list of Executive Committee members can be viewed here.

Consumer Workshop Conducted in NYC and London
Earlier this month, FISD moderated workshops in London and New York for consumer members to share their thoughts on management and organizational issues. The topics focused on organizational structure, tools, managing relationships with internal customers, and employee recruitment and development. FISD plans to offer a third workshop via teleconference for other interested consumer members and publish the findings of these workshops as a resource for members. Contact Tom Davin for details

FISD Launches Women's Speaker Bureau
Member firms have increasingly requested to see greater gender equity on event programs. In response, FISD is developing a Women's Speaker Bureau to have a deeper understanding of the available speaker pool. Women who would like to volunteer to speak should send their name, title, company name, contact information, preferred locations for speaking and tags for the topics they are able to cover (e.g. data management, MiFID II, cost savings, vendor management) to Tracey Shumpert. FISD will use this information to issue speaker invitations. Please feel free to spread the word to your colleagues and clients for their contributions as well. Contact Tracey Shumpert with any questions.

FISD Learning & Libations Video Available Exclusively for Members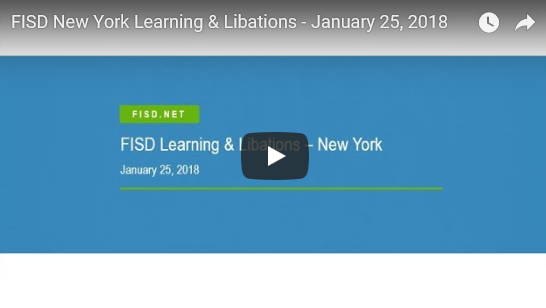 The New York Learning & Libations event was held on Thursday, January 5 at OTC Markets Group. Guests were able to hear from Dan Connell of Greenwich Associates give an overview of the industry and lead a panel on the topic of Alternative Data: An Essential Primer. FISD was able to record this event so our members can still enjoy the content long after it's over. Click Here to view the full video presentation. To login please use you FISD username and password.

FISD Amsterdam Slides Now Available
FISD Amsterdam was held on Thursday, February 1 at Euronext. Discussions ranged from the new and slightly quirky topic of 'Alternative Data' through some quick stops looking at 'MIFID II' and finishing with some thoughts on 'Alternative Indices'. In case you could not attend or would like a refresher, you can review the event Powerpoints by clicking here.

SIIA Public Policy Agenda for FISD Members


FISD's parent SIIA has a full agenda of public policy activities that are open to FISD members. Issues addressed range from Intellectual Property Policy, International Policy, Privacy & Data Security Policy and Education Policy. For a full list of issues, members can navigate to the SIIA Public Policy website and review the priorities tab for more information. FISD Members are also welcome to sign up for the weekly update which highlights all public policy activities. Any members who wish to learn more about the public policy agenda or would like to be added to the mailing list should contact Michael Zingali.

Share Your News in the FISD Newsletter
Members can have their press releases, events, white papers, blogs, news articles and job postings featured in the FISD Newsletter. Delivered monthly to thousands of financial information professionals, the newsletter is a great place to spread your news. Email relevant material to Michael Zingali with the subject line "FISD Newsletter Submission.
---
Upcoming Events
---
FISD Working Groups
Consumer Index Group
Contact: Nick Merritt +1 202-789-4441
Consumer Constituent U.S. Exchange Data Sub-Group
Contact: Tom Davin +1 202-789-4465
Business Issues Policies and Practices Standards (BIPPS) Working Group
Contact: Tom Davin +1 202-789-4465
Service Level & Communications Working Group
Next meetings are scheduled for 2/23 and 3/23. Please contact Nick Merritt with any questions.
Contact: Nick Merritt +1 202-789-4441
MIFID II Reference Data Working Group
Contact: David Anderson +44 (0) 1825791382
FISD Constituent Groups
Next Constituent Group meetings are scheduled for March 28, 2018.
*All constituent group meetings are invitation only
Consumers Contact: Tom Davin +1 202-789-4465
Exchanges Contact: David Anderson +44 (0) 1825791382
Data Vendors Contact: Nick Merritt +1 (202)789-4441
---
Staff Schedules
Tom Davin (DC Office):
London: March 7-9
New York: March 28, May 22-23
Hong Kong: May 8-11
Shanghai: May 14-15

Nick Merritt (DC Office):
New York: March 28
David Anderson (UK Office):
London: February 28
Anika King (DC Office):
New York: March 28
Tracey Shumpert (NYC Office):

London: February 28, March 8
New York: March 28
Hope Wilkes (DC Office):
London: February 27-March 4
New York: March 28
Michael Zingali (DC Office):

New York: March 28