FISD Strategic Planning Process
The Governance & Operations Advisory Committee (GOAC), a sub-group of the FISD Executive Committee, has continued its discussions on FISD strategy—possible long-term changes to the industry, FISD's strengths and weaknesses, and opportunities to better serve its membership. The group's next meeting will be on broad perceptions of where FISD is today and where it should be in 3-5 years. The goal of the group is to present findings to the FISD Executive Committee and general membership in June 2018. While this activity is limited to GOAC members, input is welcome from all FISD members. Contact Tom Davin for details.

Service Level & Communications Working Group Update!
A sub-group of individuals within the SL&C WG is considering a proposal that could alter the Group's annual Data Provider Award (which for the past nine years has recognized the exchange that members of the Working Group deem to have most closely adhered to the Group's Best Practices recommendations). The members recommending this new proposal laud the attention that the annual award brings to the winning exchange (and, to a lesser extent, the other nominees) but they suggest the number of exchanges and data providers benefiting each year is typically only a handful and the December announcement date often dilutes the message due to the holidays and year-ending activities. Their proposal suggests that any number of exchanges and Data Providers could be recognized for stellar adoption of the Working Group's Best Practices document with perhaps a Gold, Silver, or Bronze designation – each of which would be considered an accolade. Adoption of any change to the Annual Award will require approval of the full SL&C Working Group as well as the FISD Executive Committee.

FISD Rising Stars Save the Date
Save the date for the May 22 FISD Rising Stars event in New York. Held after work at Wells Fargo, this event will give you some actionable networking tips and the opportunity to network with your industry peers.
You should mark your calendar for this event if you care about:
This event is exclusive to FISD members. Please contact Hope Wilkes with any questions or click the button below to register.

FISD Hosts Women's Group on #IWD18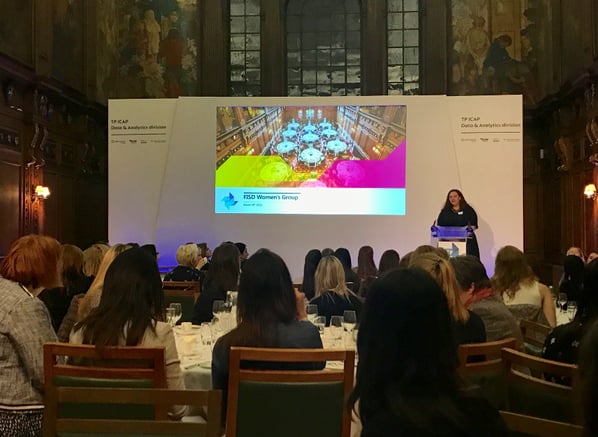 On International Women's Day, FISD hosted their sold-out London Women's Group event at the historic Skinners Hall. Professionals from the financial information industry came together for a seated luncheon to hear from inspiring female leaders discuss topics such as Winning Culture, Leading Through Paradox and the Factors of Success. For those who could not attend, we would like to share with you a link to some of the event photos that were taken. Feel free to view them here: London FISD Women's Group Event Photos. FISD would like to thank TP ICAP for sponsoring this fantastic event. Please be on the lookout for the official announcement of the next Women's' Group hosted in New York!

2018 FISD Executive Committee Announced
The FISD Executive Committee (EC) is charged in the FISD Bylaws with representing the FISD membership and setting the broad direction for FISD activities. In this capacity, the EC reviews and approves new initiatives, provides guidance to working groups and the FISD/SIIA staff, identifies priorities for the FISD budget and staff resources, and selects new EC members when vacancies open. Fifteen member companies were chosen to serve a two-year term beginning in February. Yousaf Hafeez of BT and Vice-Chair Steve Dickey of CBOE have reprised their roles as Chair and Vice-Chair respectively, as has Marcy Pike of Fidelity, as Secretary. Congratulations to new EC members: CPPIB, 3d Innovations and Vela, and to returning incumbents. The complete list of Executive Committee members can be viewed here.

FISD Launches Women's Speaker Bureau
Member firms have increasingly requested to see greater gender equity on event programs. In response, FISD is developing a Women's Speaker Bureau to have a deeper understanding of the available speaker pool. Women who would like to volunteer to speak should send their name, title, company name, contact information, preferred locations for speaking and tags for the topics they are able to cover (e.g. data management, MiFID II, cost savings, vendor management) to Tracey Shumpert. FISD will use this information to issue speaker invitations. Please feel free to spread the word to your colleagues and clients for their contributions as well. Contact Tracey Shumpert with any questions.

Share Your News in the FISD Newsletter
Members can have their press releases, events, white papers, blogs, news articles and job postings featured in the FISD Newsletter. Delivered monthly to thousands of financial information professionals, the newsletter is a great place to spread your news. Email relevant material to Michael Zingali with the subject line "FISD Newsletter Submission.
---
Upcoming Events
---
FISD Working Groups
Consumer Index Group
Contact: Nick Merritt +1 202-789-4441

Consumer Constituent U.S. Exchange Data Sub-Group
Q2 Meetings: May 17 and May 30
Contact: Tom Davin +1 202-789-4465

Business Issues Policies and Practices Standards (BIPPS) Working Group
Contact: Tom Davin +1 202-789-4465

Service Level & Communications Working Group
Next meetings are scheduled for 3/23, 4/20, 5/18 and 6/29. Please contact Nick Merritt with any questions.
Contact: Nick Merritt +1 202-789-4441

MIFID II Reference Data Working Group
Contact: David Anderson +44 (0) 1825791382

FISD Constituent Groups
Next Constituent Group meetings are scheduled for March 28, 2018.
*All constituent group meetings are invitation only
Consumers Contact: Tom Davin +1 202-789-4465
Exchanges Contact: David Anderson +44 (0) 1825791382
Data Vendors Contact: Nick Merritt +1 (202)789-4441
---
Staff Schedules
Tom Davin (DC Office):
New York: March 27-28, April 12 & 26, May 22-24
Hong Kong: May 7-11
Shanghai: May 14-15

Nick Merritt (DC Office):
New York: March 28, April 26
Toronto: May 1

David Anderson (UK Office):
Singapore: March 20
New York: April 26

Anika King (DC Office):
New York: March 28, April 26

Tracey Shumpert (NYC Office):
New York: March 28, April 26

Hope Wilkes (DC Office):
New York: March 28, April 26

Michael Zingali (DC Office):
New York: March 28, April 26
Toronto: May 1